Amy Klobuchar enjoys something of a reputation for bipartisanship. But she has never compromised—or shown any moderation at all—on the issue of abortion.
Klobuchar, who has served one term in the U.S. Senate, faces
pro-life challenger Kurt Bills
in the Nov. 6 election. She rarely mentions abortion in public, but her little-known record speaks for itself.
Zero percent pro-life
According to National Right to Life's scorecard of votes pertaining to the right to life, Klobuchar has voted
19 times
against the pro-life position and zero times in favor of it—
a 0 percent pro-life voting record.
She voted against maintaining the prohibition on sending U.S. "population assistance" funds to any organization that "supports or participates in the management of a program of coercive abortion or involuntary sterilization," such as that in China. She voted in favor of overturning the Mexico City Policy, thereby allowing the funding of organizations that "perform or actively promote abortion" in other countries.
Klobuchar voted against giving states the option of covering unborn children under the State Children's Health Insurance Program (SCHIP), which provides health services to children of low-income families.
She voted in favor of mandating federal funding for embryonic
stem cell research
, which requires the destruction of human embryos—
human beings
at the embryonic stage of development. Unlike adult stem cell research, which is ethically unproblematic, embryonic research has not led to any successful human medical treatments.
Obamacare, Planned Parenthood
Klobuchar voted for the Affordable Care Act, known as Obamacare, which includes
abortion funding
and dangerous
rationing provisions
. Before final passage, she
voted to kill
an amendment to remove the abortion-expanding elements from the bill. Since Obamacare was passed, she has voted against repealing it and against blocking its funding.
This year Klobuchar voted against an amendment, offered by Sen. Roy Blunt, to protect the conscience rights of religious institutions from coercive Obamacare mandates.
In 2011 she voted against denying federal funding to Planned Parenthood, the nation's premier provider and promoter of abortion, which performs hundreds of thousands of abortions annually while raking in hundreds of millions of taxpayer dollars.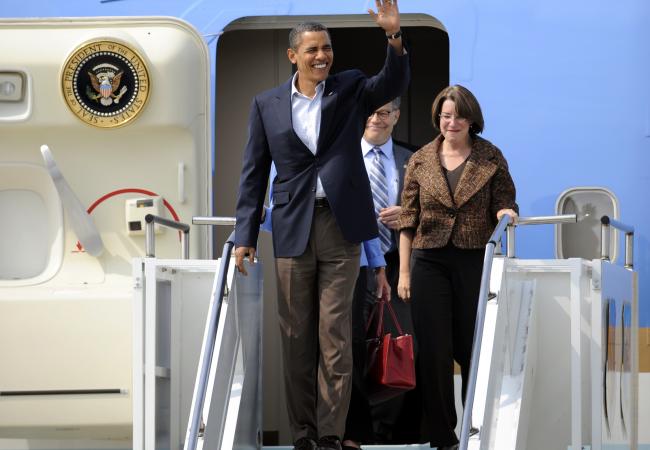 With Pres. Obama; Al Franken lurking
(AP photo via MPR)
Klobuchar is close to the abortion industry leader. She
attended a political fundraiser
for the group last fall, and when Susan G. Komen for the Cure, the breast cancer charity, decided earlier this year to withhold modest grants to Planned Parenthood (a decision since reversed), Klobuchar
wrote a letter
to Komen urging it to "reconsider." The abortion giant, she claimed, is essential to "women's health," even though Planned Parenthood does not provide mammograms—it refers women elsewhere for actual health care. (That's why Komen thought it could make better use of its grant money.)
Supreme Court, EMILY's List
Klobuchar, who sits on the Senate Judiciary Committee, voted to confirm U.S. Supreme Court Justices
Sonia Sotomayor
and
Elena Kagan
, both of whom will almost certainly vote to reaffirm
Roe v. Wade
and
Court-imposed
nationwide abortion on demand. Prior to taking office, Klobuchar opposed the nominations to the Court of John Roberts and Samuel Alito, who later provided the decisive votes to uphold the federal ban on partial-birth abortion.
Klobuchar has been
endorsed
by the pro-abortion political action committee EMILY's List, which requires that all endorsees support not only abortion on demand but also late-term and partial-birth abortion. Since 2006 Klobuchar has received
$377,900
from the group—by far her
top contributor
. (View photos of her speaking at EMILY's List events
here
.) She is also endorsed by the pro-abortion
Feminist Majority
.
She has earned
100 percent ratings
from Planned Parenthood and NARAL Pro-Choice America.
Klobuchar: Unlimited abortion
Amy Klobuchar has without exception resisted any and all limits on the killing of unborn children; in at least some cases she wants such killing to be subsidized with taxpayer dollars, as if abortion were a public good of which we ought to have more. Minnesota voters should consider whether they want someone who holds those views influencing public policy on their behalf.